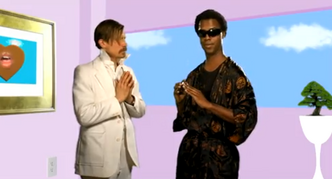 Essential Raindrop Sunset and Spa is a relaxation center where people can enjoy essential oils, massage, facials, and steam.
The spa is managed by Eugene Ingebeu . The most popular service offered is a citrus milk facial, but it is only available during the summer months.
At the push of a button, the lobby of the spa can transform into a miniature dance club complete with DJ lights.
Clients are oiled down in the preparation booth before each spa treatment for the safety of the staff and other clients. It is not uncommon for Samwell to try to avoid going into the preparation booth, but dancing with him beforehand seems to help.