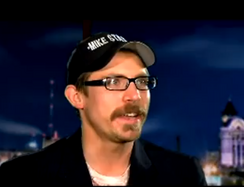 Kuzy is an adult American male who hosts an interview show in the What What Universe.
Along with Santa Claus and a small handful of others, Kuzy is one of the few people who has been granted access to a rare interview with Samwell.
Brownmark Films has posted four of Kuzy's interviews with Samwell on the video-pirating site YouTube. The interviews cover a range of topics including whether Samwell is real, his business meeting with Johnny Depp, and what it's like being a cultural icon.